Wedding Catering
The city of Charlotte and its surrounding neighborhoods offers a variety of unique venues that are the perfect backdrop for the most important day of your life. Our team will guide you through the wedding catering process as we create a custom menu tailored to your personal vision and style. We've built trusted relationships with Charlotte's best wedding vendors and venues and will work directly with them to make your special day seamless. While you focus on each other, we focus on the details that make your day special.
Shrimp & Grits Station
A crowd favorite! Anson Mills stone ground grits with spicy Charleston shrimp, tasso ham gravy, applewood smoked bacon, cheddar cheese and spring onions
Fried Chicken Steam Buns
with pickled vegetables, rice wine, and a yellow miso aioli
Seared Ahi Tuna Martinis
with julienne vegetables and edamame beans, tossed in a wasabi-soy sauce with pickled ginger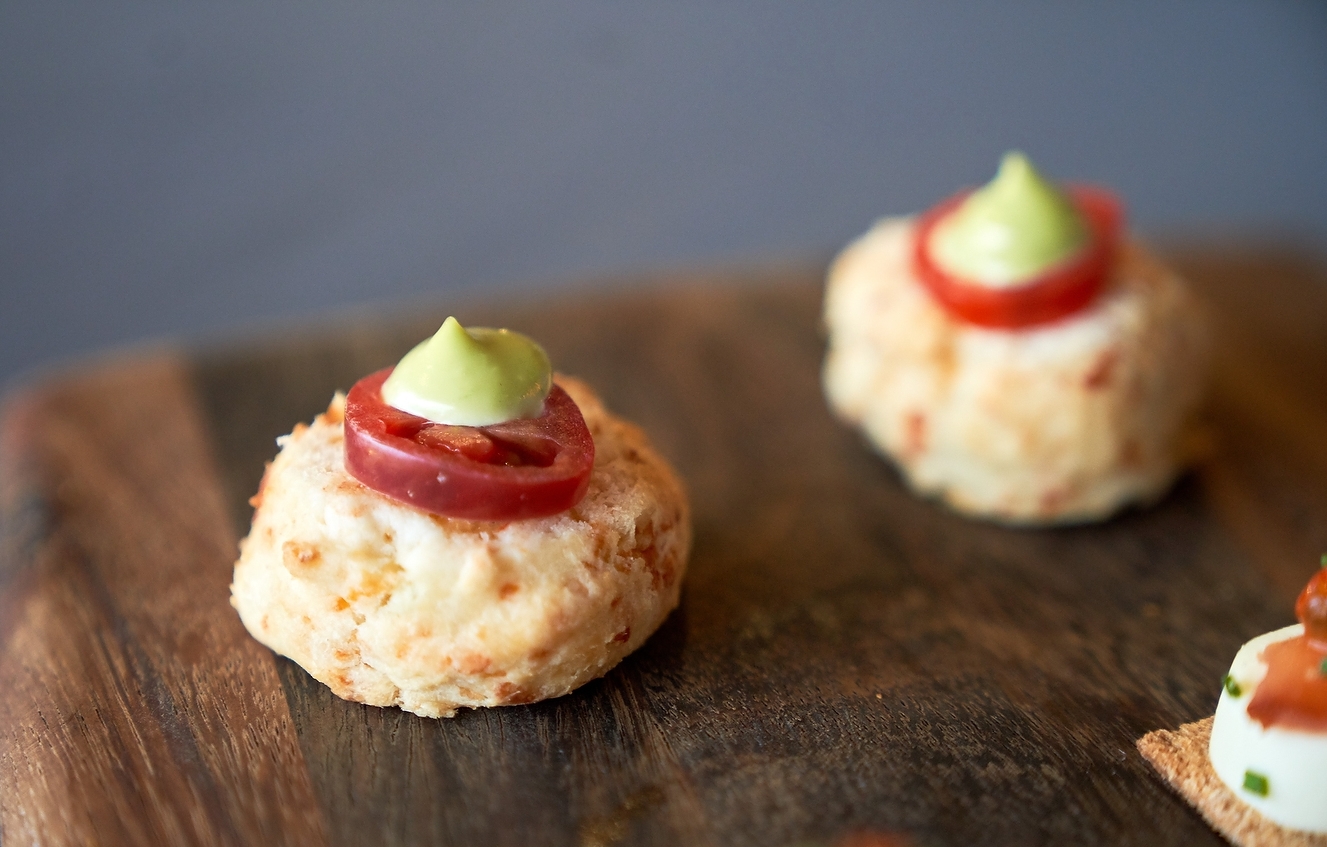 Miniature Open Faced Cheddar Biscuits
with toybox heirloom tomatoes, basil avocado cream
Miniaiture Desserts
with "Milk & Cookies" and assorted French macaroons
Late Night Snack
southern fried chicken biscuits with egg and cheese
Smoked Chicken Breast On Crostini
with a chipotle pepper relish
Banana Pudding "Shots"
fresh bananas layered with vanilla wafers, banana pudding and fresh whipped cream
Cranberry Walnut Salad
dried cranberries, candied walnuts, feta cheese, drizzled with balsamic-vinaigrette
Duet Entrée
salmon and pan-seared chicken over herbed rice and green beans
Late Night Snack
miniature Nathan's hot dogs
House Lexington-Style BBQ
open-faced on a sweet potato biscuit with apple butter & apple cabbage slaw
Miniature Corn Bread Muffins
Mixed Greens Salad
strawberries, toasted almonds, feta cheese, balsamic-vinaigrette
Mashed Potato Bar
baby red new potatoes, roasted garlic, green onions, hickory smoked bacon, cheddar cheese, & sour cream
Dessert Tasting Wall
Guests experienced hundreds of miniature desserts from out 16' long serpentine tasting wall
Butler Passed Hors D'oeuvres
with miniature Maryland style crab cakes & baked brie en croute
Tuscan White Bean Bruschetta
crispy rounds of Italian bread, cannelloni beans, fresh basil and shallots
Pre-Set Salad
at Daniel Stowe Botanical Garden
Spinach-Walnut Ravioli
with pesto cream & diced red bell pepper
Shrimp & Grits
jumbo gulf shrimp, stone ground grits, green onions, cheddar cheese